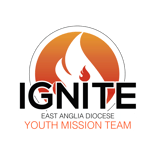 On the morning of the Monday after the Ignite Festival (this year 2nd May), we do a Pilgrimage Walk tto Walsingham. In the past that has been to join the Diocesan Pilgrimage. This year, however, the Diocesan Pilgrimage isn't happening on this day, but we didn't want to miss out, so we will still do our own pilgrimage walk!
Ignite Participants who have opted to do the walk will be coached to the start point which iOUTSIDE WATERDEN CHURCH, WATERDEN LANE, NR22 6AT
From there, we will be walking a picturesque 4.1 mile route to the Catholic National Shrine of Our Lady. The route has been planned to be off road, or on quiet roads, as much as possible. We plan to arrive by the midday Mass, after which we will have lunch in the grounds (provided as part of the 'Weekender + Walk' ticket). Participants can be picked up from Walsingham from 1:30pm.
Please ensure you have the right clothing for any eventuality (e.g. rain coat, sun hat etc.), sun cream (if it's sunny) and your own water bottle.
We welcome parents and supervised children to come and join us! Please email igniteteam@rcdea.org.uk if you wish to do so.