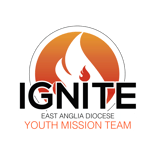 On the morning of the Monday after the Ignite Festival (this year 1st May), we do a Pilgrimage Walk to Walsingham, joining the Diocesan Pilgrimage. You may be wondering why we do this?
Pilgrimage is a journey to a special place. It provides the opportunity to step out of the busyness of our lives and take time to reflect. Walking provides an opportunity to do this surrounded by the beauty of God's nature, and chatting with people on the way. It is also very enjoyable and gives a real sense of achievement when you reach your destination, especially if you've not had much sleep during the Ignite Festival!
If you have opted to do the walk you will be coached to the start point and from there, the group will be walking a picturesque 4 - 5 mile route. The route has been planned to be off road, or on quiet roads, as much as possible. We plan to arrive by midday to join the procession in the village, after which we will have lunch in the grounds (provided as part of the 'Weekender + Walk' ticket). Mass is at 3pm and participants can be picked up from Walsingham from 4:30pm.
Please ensure you have the right clothing for any eventuality (e.g. rain coat, sun hat etc.), sun cream (if it's sunny) and your own water bottle.
We welcome parents and supervised children to come and join us! Please email igniteteam@rcdea.org.uk if you wish to do so.